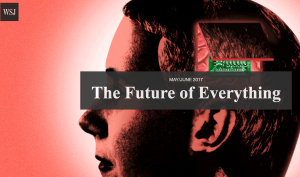 The May/June 2017 installment of WSJ's The Future of Everything series has quite a bit of food for thought:
– Hardware upgrades for your brain? Yep
– Art inspired by CCTV? Indeed
– Femme-forward fintech? Sure
– 3D printed home goods? That too
– Formula E? You bet
And a lot more on top of that, as well. Get into it here.