XX Dinners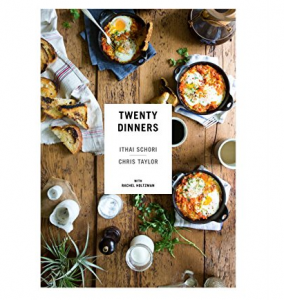 Do you like cookbooks by indie rock stars? Do you have friends who fancy themselves pastry chefs, expert mixologists, or perhaps sommeliers? If the answer is yes, and you'd like to throw a fabulous dinner party where you cook for – and with – those friends, XX Dinners (Twenty Dinners) penned by Grizzly Bear's Chris Taylor is the cookbook for you.
Paired up with his friend, photographer and former chef Ithai Schori, Chris Taylor has compiled over 100 seasonally-arranged recipes to peruse while enjoying your favorite mason-jar cocktail then inspire you to put together the perfect playlist and guest list for your next dinner party. Tasting Table described the recipes as "unfussy but elegant," which is apt – Twenty Dinners is an accessible and enjoyable collection with swapping ingredients or experimentation wholeheartedly encouraged.
Some of our favorites included the simple Roasted Chicken and on the more elaborate side, the Seared Kale Salad with Brown Butter Toasted Pine Nuts and Smoked Bacon. For the vegetarians, many of the recipes are vegan and vegetarian-friendly or could easily be made so.
We always kind of wondered what it was like to eat like a rock star, but, you know, at home. Now we know. Thanks, Chris!
Learn more: XX Dinners (Twenty Dinners) by Chris Taylor of Grizzly Bear
This book was provided to us through Blogging for Books in exchange for our honest review.