Today Was a Good Day. A Good Food Day.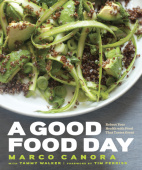 Ice Cube might have described a good [food] day as one where momma cooked a breakfast with no hog. The author of this book, Marco Canora, describes a good food day as "a day when feeling good and eating well go hand in hand" – and anyone who's had a day where they ate too much, food that was too rich or anything generally disagreeable will have to concur with Canora's statement.
This book focuses on recipes with natural ingredients, and diet-friendly themes like low glycemic indices and alkaline forming, rather than acidic, selections. But one needn't be dieting to enjoy this book, nor necessarily looking for complicated recipes, or purely vegetarian selections. Instead you'll find basic rules that may remind you of Michael Pollan's "In Defense Of Food". Canora goes through ten principles that can help anyone eat healthier and fresher: eating should be enjoyable, cooking is empowerment, quality ingredients are critical, and more.
One of my favorites is the cacio e pepe popcorn, seasoned with black pepper and pecorino – a great quick snack, and I also enjoyed the salmon salad with pomegranate.
Worth a read for the health-conscious omnivore.
Learn more – A Good Food Day: Reboot Your Health With Food That Tastes Great, by Marco Canora.
We received this book from the Blogging for Books program in exchange for this review. Opinions are our own.