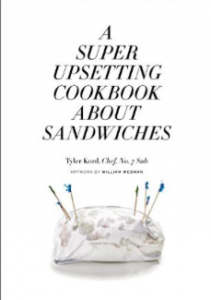 We weren't sure what to expect from a book with a title like "A Super Upsetting Cookbook About Sandwiches," but given the evidence:
– The author Tyler Kord is owner/chef at the No. 7 Sub shobs in NYC
– William Wegman did the artwork
– Sandwiches make everything better
…we figured even if it was super upsetting, it'd be worth it. And it is; this cookbook is an easy read and visually glorious. It also promised "careless ruminations on sandwich philosophy, love, self-loathing, pay phones, getting drunk in the shower, Tom Cruise, food ethics, and what it's like having the names of two different women tattooed on your body," and thoroughly delivered. Recipes aren't necessarily in order; for example, to make the Lazaro's Revenge breakfast sandwiches (and you should) you'll need the homemade chorizo from earlier in the book as well as the scrambled eggs and pickled jalapenos that follow much later. So if you hate recipes with sub-recipes, this is not the book for you. But if you have your own deep fryer, it's definitely the book for you, particularly if you like putting sauces on those fried things and putting them on bread.
Learn more: "A Super Upsetting Cookbook About Sandwiches," by Tyler Kord
This book was provided by Blogging For Books; all opinions are our own.