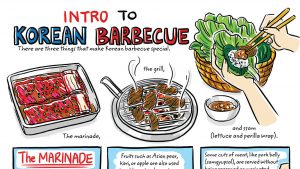 We love recipes and we love comics so recipe comics seem like a natural fusion to us. We also love all things kimchi, so when you have a collection of Korean recipe comics you definitely have our attention. And that's what you'll find in Robin Ha's "Cook Korean – A Comic Book With Recipes".
Ha deftly combines elements of Korean culture with recipes for street food, cocktails, Korean bbq and kimchi, among many others (about 60 total). The comics and writing style are fun to read and easy to follow, making the book very accessible. As much as I love the coffee-table cookbooks that are in vogue these days with their beautiful food photography, Ha's style here is super refreshing. Get your soybean paste, green onions and dried anchovies ready – you'll find a lot in here that you'll want to give a try. Beyond the kimchi and bulgogi, the spicy pork (Jeyuk Dupbap) was a favorite.
Learn more: "Cook Korean – A Comic Book With Recipes" by Robin Ha.
This book was provided by Blogging For Books; all opinions are our own.