Really Roman – Tasting Rome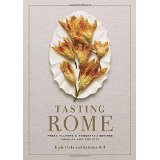 Katie Parla and Kristina Gill have dished up a fresh look at authentic flavors of Rome. In Tasting Rome: Fresh Flavors and Forgotten Recipes from an Ancient City (originally titled Really Roman), they've put together a collection of recipes and awesome visuals that take you through what's really being eaten in Rome today, well past the stereotypes, into trattorias and street food. Saveur called this one "[a] fantastically detailed look into Rome's most remarkable dishes… a new classic in the Italian food library." If you're a fan of Design*Sponge the visuals will particularly resonate with you – Gill is an editor there and the same fresh style flows through.
Favorite recipes of ours included pizzarelle with honey and pine nuts, a fresh take on pollo alla romana, and an unexpected and spicy hraimi con couscous.
Publication date: March 29, 2016. Learn more: Tasting Rome, by Katie Parla and Kristina Gill
This book was provided by Blogging For Books; all opinions are our own.