Pickle It, Just A Little Bit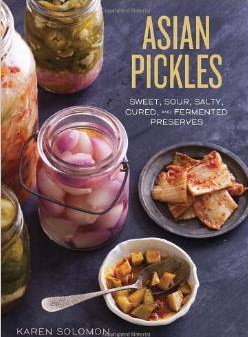 We're obsessed with pickled everything these days so when this copy of Karen Solomon's Asian Pickles found its way into our office, the timing was perfect for us to delve into its salty-sweet, vinegary goodness.
This book is visually engaging – seriously, if your mental images of pickled things are eggs in a jar and dill spears, pick this up immediately and disabuse yourself of that with a serious dose of color! It also features over 75 recipes for all levels of patience (quick same-day pickles to some long-dated treats we haven't tried yet).
With recipes from Japan, China, Korea, India and Southeast Asia, there's a wide variety to choose from whether you're looking for traditional kimchi or less mainstream finds like miso pickles. Recipes are easy to follow and most don't require extensive foraging for unusual ingredients.
Get Asian Pickles by Karen Solomon here.
nb: We received this book for free from Blogging for Books for this review. Opinions on its general tastiness are, however, our own.