Olympia Provisions: Tales From the Salumeria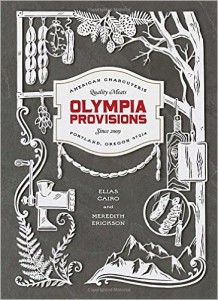 The venerable traditions of charcuterie may be a mystery to a lot of us – there's a lot of curing, and smoking, and process required. The outcome is always worth it, but the learning curve has always seemed steep. In Olympia Provisions, we're treated to a lot of history, which has yielded a lot of accessible recipes.
Author Elias Cairo has charcuterie in his veins, if you will; raised in Salt Lake City within a large Greek family, he learned old-world preparation and preservation methods for meats like lamb and goat early on. He garnered additional knowledge from his father's restaurants, apprenticeships in Switzerland and Greece, attending Berufsschule and more. Then he took that background to Portland, Oregon, and that's where the magic that is Olympic Provisions started in 2009. Writer Meredith Erickson does a wonderful job of telling Cairo's story like the engaging adventure it has to have been.
As for the recipes, there's something for every fan of charcuterie in here. Nineteen frankfurters – count 'em, nineteen – are detailed in this book, along with duck confit, pork rillettes, and a coppa di testa recipe that almost makes it sound accessible to the at-home chef (almost… we still haven't tried it, but it's fun to read). The recipes are paired with beautiful photography that will make your mouth water. If you're vegetarian, well, there's a few recipes you can still check out – you'd probably enjoy some of the goodies in the Wine Time chapter like the cherry, basil and chevre crostini, and the arugula, grapefruit, pistachio and ricotta salad. Also, the laser potatoes are awesome comfort food.
Learn more: Olympia Provisions by Elias Cairo and Meredith Erickson. This book was provided by Blogging For Books; all opinions are our own.