It's The Wurst, And We Mean That As A Compliment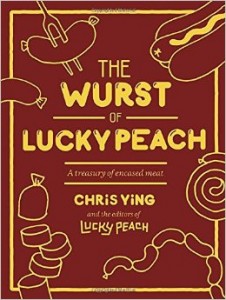 The editors of Lucky Peach do some of the best food journalism out there, so it's awesome that they've started cranking out cookbooks. We are still enjoying their 101 Easy Asian Recipes and were thus excited to also receive The Wurst Of Lucky Peach in the mail recently.
Admittedly, we weren't quite sure what to expect. With Meehan and company, you never are, and that's a good thing. An entire tome dedicated to encased meats, and we haven't even yet invested in a grinding attachment for our KitchenAid? Turns out we didn't need one, as this book reads like a scrapbook from a sausage connoisseur – there are recipes, sure, but if you are a dedicated forcemeat consumer you can enjoy this book without ever stuffing a single casing. (And for some of the recipes you don't even need casings.) You'll find the history of over a hundred sausages, roughly arranged by geography and a variety of fascinating sausage-related essays, as well – with all the illustrations and photos you'd expect from Lucky Peach.
Learn more: The Wurst Of Lucky Peach
Well worth checking out if you're a sausage fan and interested in the history of food.
This book was provided by Blogging For Books; all opinions are our own.