Cravings With Chrissy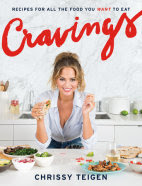 Chrissy Tiegen's funny and feisty, and seemingly manages to have fun and look good doing it no matter what. That brings us to Cravings, a cookbook authored by Chrissy Tiegen – which channels that same joie de vivre.
Whether or not you've ever visited her "So Delushious" foodie site, if you've seen any of her food posts on Instagram, the book will instantly resonate with you. And, it's probably gloriously fun even if you don't follow her on social media. Chrissy Tiegen champions every fun food ethos from breakfast all day to big plates of carbs, sometimes at the same time, like the french toast casserole with salted frosted flakes (making that this weekend, as it sounds and looks amazing). If you like flavor, this book won't disappoint – the recipes are high-throttle, including spicy Thai classics from her family, richly savory dishes like spicy tomato skillet eggs with prosciutto, and cannot-be-denied comfort food like steak bites with melty blue cheese butter. These are easy recipes, not requiring an extensive pantry or long prep time, making many of them perfect for getting into on a weeknight. The food provides fabulous eye candy throughout the book, and it doesn't hurt that there are a few pics of John Legend, too.
Learn more: Cravings, by Chrissy Tiegen
This book was provided by Blogging For Books; all opinions are our own.