An Extra Virgin Taste Of Italia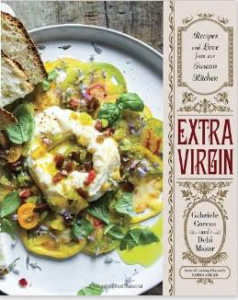 For the longest time I eschewed Italian food because my image of it was not of true Italian but of its American, fast-food and chain-restaurant equivalents – noodles, red sauce and occasionally a watery Alfredo. Then I went to Italy and ate my way across the country, from osso bucco in Milan to gigantic globe grapes in the windowsill of my hotel room in Siena to pizza sold by weight in Rome (and much, much more).
Tuscany was my hands-down favorite for food (and wine) and this book focuses on the Tuscan kitchen with delicious and easy to follow recipes and mouth-watering photography. (The authors at at least one point will caution you to not pile the cheese on your pasta, knowing how those of us who are Americanized will do.) This is the rustic Italian food that won me over. As the author says, Tuscans have access to fresh ingredients, which they use "sparingly but wisely" letting each of the flavors show through in their kitchen. It's the "farm to table" concept, perfected over thousands of years.
There are about 120 recipes (and 250 pages, so you know you're getting beautiful photos of every dish) spanning:
Appetizers
Pasta and Sauces
Risotto
Soups
Meat
Fish
Vegetables
Pizza
Panini
Desserts
Drinks
Particular favorites from the book include the grilled apricots with goat-cheese ricotta, and the roasted pork loin with sage, rosemary and garlic.
Get Extra Virgin: Recipes and Love From Our Tuscan Kitchen here.
nb: We received this book for free from Blogging for Books for this review. Opinions on its general tastiness are, however, our own.