West Elm Lloyd Desk. Whoa.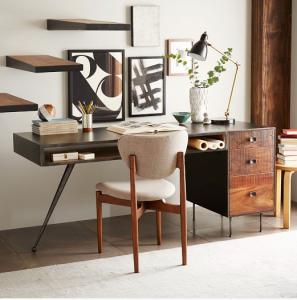 My coal-black heart often struggles with not being judgmental of mass-market furniture, but every now and then I see a piece that is so well-done I can't muster a darn bit of snobbery.
That was my reaction to the West Elm Lloyd desk, with its angular shapes, mid-mod metal legs, walnut finish and substantial workspace – it's over five feet long, giving you room for a lamp and plants and quintessential desk tchochkes while still retaining significant space for plotting to take over the world.
Oh and it's fabulously styled here, minus my confusion over the empty shelves… and that chair ain't half bad either.
Currently selling for $2K at west elm.