Tile Files: Heath Ceramics, Tile Makes The Room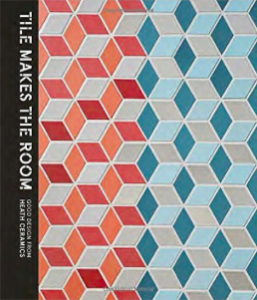 Tile is much more than stark subway walls or large-format utilitarian flooring. When elevated to include rich variations in color, texture and material, it becomes an art form. Heath Ceramics is perhaps the best known "tile house", founded in 1948 and revitalized in 2003 when changing hands from the original owners. Heath creates small runs of hand-crafted tile, in addition to several other ceramics product lines.
If you're picking up a copy of Tile Makes the Room, chances are you already are familiar with Heath. This book's actually authored by the new owners, Catherine Bailey and Robin Petravic, and it takes an expansive look at tile's role in good design. (The book's not intended as a DIY guide – it's more inspirational and illustrative in nature – though project types may get some great ideas while perusing the many vivid photos of installations.) In this book, you'll see installations of Heath tiles in homes around the world; how very subtle differences in tone and texture of tile can change the mood of a room; and how to work with patterns as well as with solid treatments.
The book may be of particular interest to those with vintage homes. Heath Ceramics tiles play very well off of Craftsman and mid-century homes, given their organic-modern bent; they're a great way to add interest and simultaneously take the "edge" off a bathroom or kitchen update, keeping it more firmly rooted in the home's original architecture.
A quick video about the book:
In all, highly recommended for any fan of Heath Ceramics. And, as an aside – this cover makes us want to go to our local barcade, BART, where we can play Q-Bert.
Learn more: Tile Makes the Room. This book was provided by Blogging For Books; all opinions are our own.