Pantone's 2015 Color Of the Year: Marsala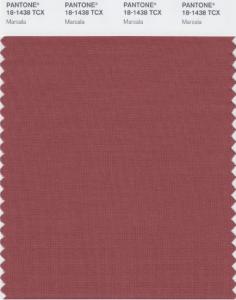 Was Radiant Orchid a little too radiant for you? You might herald the entrance of Pantone's new Color Of the Year – for 2015, they've selected 18-1438 TCX, Marsala – a reddish-brown jewel tone that Pantone says is a "daringly inviting tone that nurtures; exuding confidence and stability while feeding the body, mind and soul".
We mentally associate Marsala with wine around here, which certainly helps us to exude confidence while feeding our bodies, minds and souls – so we're good with that description. That said, our personal preference is to keep this tone reserved for wine and lip gloss, not so much for upholstery. But, show it to us in something different from the expected heavy velvets and we're willing to take a look.