One Fridge, Two Fridge, Red Fridge, Blue Fridge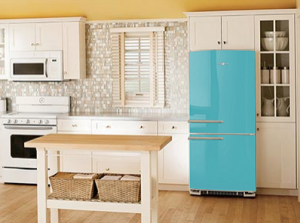 From the department of: yes, we want this thing.
When GE released the Artistry line of appliances a little while back, they made it clear that the kitchen of the future was decidedly retro – clean, mid-century lines, no stainless steel facades to be seen and little digital frivolity. Beyond that, the entire set of four appliances costs less than some of the beast-fridges you might find at your local appliance purveyor.
Now, in addition to black and white appliances, it seems they're considering offering the Artistry line in seven other tones – well, at least the refrigerator – such as cupcake blue, aubergine, lemon and a lime color that's a hyped-up version of your grandmomma's avocado appliances. And, it looks like they're putting it up to a vote.
Ready for a funky fridge? Tell GE which one, here.