"It's A Sony" Exhibit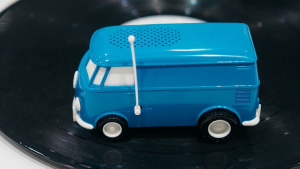 Check it out if you can: Sony's about to demolish their flagship building in Ginza, Tokyo with a public park, and if you can stop by before then, they've got a cool exhibition titled "It's A Sony" showcasing some of their rarest and most interesting innovations.
You'll see expected devices like the Walkman, of course, and some oddities like a wall full of proprietary media types that didn't catch on. There's a carbon fiber Vaio that I used to own back in the day, robots shaped like dogs, robots not shaped like dogs, and one piece I'm now stalking on eBay, the "Chorocco" record player pictured at right, shaped like a VW Bus.
See a nice recap at The Verge, and go if you can.