Doodletopia: Draw All The Things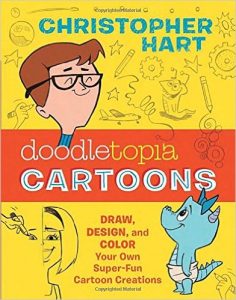 Chris Hart's series of books "Doodletopia" covers a variety of entertaining art forms – manga, fairies and cartoons. We took Doodletopia: Cartoons for a whirl and had a good time.
The book encourages you to draw right on the page – making it highly recommended as a nice transitional tool if you're gonna try to graduate from adult coloring books to drawing! (It's suitable for kids, too.) You'll add faces, costumes, sidekicks, calligraphy, crazy inventions and more. In all, it takes you from a warmup to a complete cartoon, and it's a good deal of fun.
Learn more: Doodletopia: Cartoons, by Chris Hart.
This book was provided by Blogging For Books; all opinions are our own.