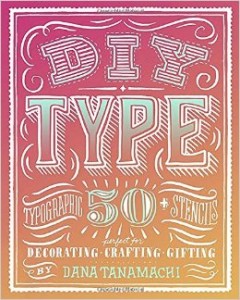 Hand-lettering. It's so hot right now. And Dana Tanamachi is one of its brightest stars, architecting custom typography for the likes of Google, West Elm and Williams-Sonoma.
We had the pleasure of attending one of Tanamachi's events – "A Hand-Lettered Holiday" – where we made totes adorbs hand-lettered coffee sacks after hearing her speak about type and creativity. Picking up this book, DIY Type: 50+ Typographic Stencils for Decorating, Crafting, and Gifting a couple of days later felt like picking up where we left off at that event. In the book, you'll find a little of the history of how she and her studio got started, from projects for friends to going to market. You'll also learn a little bit about shading and filling techniques.
Then, as many reviewers have noted – the majority of the book is two sets of letter stencils in different sizes. Which, to us, seems completely appropriate – the creativity of the message and layout of hand-lettered projects are really individual, and you can take these stencils and run with that. They're high-quality stencils on good cardstock, and should serve well in many a project from banners to pillows to canvas and chalkboard art.
Think of this book as more of a conduit to getting your creativity into physical form – no need to get immersed in the theory of typography, when you've got a toolkit in hand for getting your project on paper. For us, they resulted in final products that were far more polished than pure hand-lettering without stencils, and we also learned a couple of new fills. Well worth checking out if you have some great projects in mind but are a little unsure of how and where to start.
Learn more about DIY Type: 50+ Typographic Stencils for Decorating, Crafting, and Gifting
We received this book from the Blogging for Books program in exchange for this review. Opinions are our own.