Attack Of The Robo-Models
Attack of the Robo-Models! That is, robotic clothing models with proportions that can have their measurements adjusted electronically. Okay, so we're not sure what they're attacking just yet, but there's probably SOMETHING. Retailers are probably hoping they'll attack the high rate of online returns of clothing purchases (est 30% by WSJ). With the ability to detect when the placement of garments is deficient, they might help clothing designers, too.
CBInsights spotted this robo-model patent filed by Amazon (guess they're planning to expand their reach into the clothing space, and for the record, we've long been a fan of Shopbop which they now own):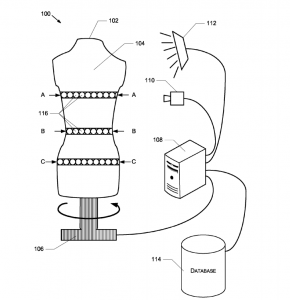 We look forward to seeing the model strike a pose, and if it results in easier online shopping and garments that fit better overall, we're all for these models. Though we also wonder who will be the first athlete who tries to date one.