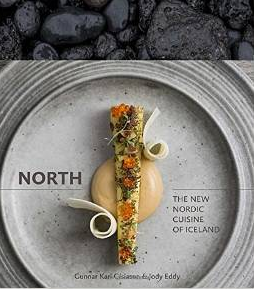 It's hard to get much further north than Iceland, and that distance is reflected in their cuisine, which was local, foraged, and sustainable way before the rest of us figured out that was cool. Gunnar Karl Gíslason's North: The New Nordic Cuisine of Iceland weaves this history throughout. Okay, the Finns got over there occasionally – Gíslason's resto Dill was opened in Nordic House, designed by Civilizr fav Alvar Aalto (who also did the furniture) – but mostly, Iceland's been isolated terroir.
Fortunately, that doesn't mean you can't actually make these recipes. Can you get your hands on cod, potatoes and heavy cream? That's a good start. Sorrel ash? Not as easy, but yes, if you can get sorrel there's a recipe for making it. If you can't get something, the author helpfully suggests "cook until it tastes good and use what you have" – something all of us should never be afraid to do!
The book organizes not by courses but by purveyors, which is not only very handy if you've got a "cod guy" but also deeply intriguing if you do like to trace all your recipes and ingredients back to the source. The final products are uniformly beautiful, which may be a pleasant surprise to anyone who has ever felt all Nordic food is unnecessarily heavy. It is as much a cookbook as an important record of history in Iceland's foodie traditions, that some fear may be lost to urbanization, but that Gíslason is committed to retaining as a craft that can be woven into modern living.
More info: North: The New Nordic Cuisine of Iceland.
nb: We received this book for free from Blogging for Books for this review. Opinions on its general tastiness and literary value are, however, our own.