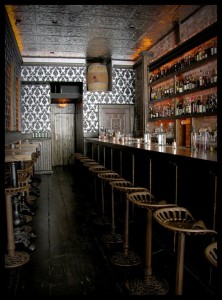 It's starting to turn just a bit wintry in our part of the hemisphere, and our thoughts are turning to craft cocktails with a little bit of spice. Not the ever-contrived generic "pumpkin spice" that's in everything right now, please, though a little bit of nutmeg wouldn't hurt.
Bourbon and Branch quickly made it on our list of favorite places in SF, and these six cocktails off their list are exactly what we're looking for right now. Taking their inspiration from flavor profiles in cookbooks that can be re-rendered in liquid fashion, they crank out herby, spicy drinks in speakeasy style.
Fair warning: many of these drinks require prior prep, but it's worth it. For example, the Autoroute Alpine in the collection linked above, which features black pepper and basil flavors, requires two days to steep a black pepper tincture.