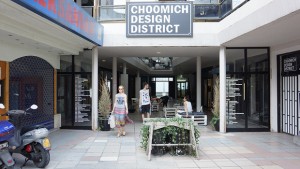 Derelicte! Crumbling facades, Eastern European architecture – what more can you ask for when in search of a modern industrial renaissance? Belgrade's got all of that, now livened up with a bohemian touch of color and innovative aesthetic.
Destinations like the Belgrade Design District are now tucked away within former shopping atriums, with coffee bars and flex space creating community in large open areas. The nightlife beats to the 24/7 vibe you expect from any major city in Eastern Europe with DJs in posh clubs, barges transformed into floating bars and chill, open air jazz lounges.
It's not surprising though – architecture of a certain age does seem to lend itself to this kind of transformation. (Wonder if anyone will start a movement to reclaim a dying early '90s suburbs of stripmalls and McMansions, 50 years from now. Doubtful?)
image, source: cool hunting. read more there.