The Life-Changing Manga Of Tidying Up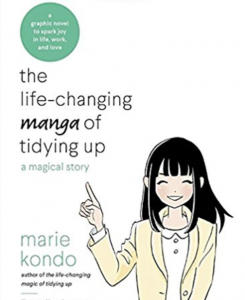 Perhaps you read Marie Kondo's "The Life Changing Magic Of Tidying Up" and thought "This Konmari thing is okay, but I need a slightly more kawaii version of this book."
Well, here it is: The Life-Changing Manga Of Tidying Up. Purists take note: it's not a true manga. It reads left to right like Western books. Think of it more as Konmari, the illustrated version. In the book, Kondo presents "the fictional story of Chiaki, a young woman in Tokyo who struggles with a cluttered apartment, messy love life, and lack of direction." And we get to follow the tale of Chiaki as she gets her sh** together, Konmari-style.
It's an easy and digestible read for flipping through and digesting the basic organizational concepts of Konmari, figuring out what really matters to you and what you need to let go because it either holds you in the past or in some way blocks you from your future or both. Yuko Uramoto's illustrations are lovely and complement the story and concepts.
Learn more: The Life-Changing Manga Of Tidying Up
This book was provided by Blogging for Books. All opinions are our own.