Deal? Duel?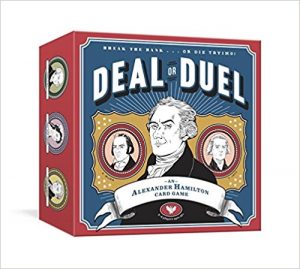 We weren't quite sure what to expect when this copy of Deal or Duel: An Alexander Hamilton Card Game showed up at Civilizr HQ. What would be in the box?
Alas, no actual dueling gear; it's game cards, a playing mat and a large wad of paper colonial cash. The game itself is a bit complex and has quite a few rules, but we figured it out after a couple of practice rounds (pro tip: if you're playing this while drinking beers, get the learning in before you start drinking, and also be careful not to spill any on that play mat, it's fragile). With the American Revolution as its backdrop, the game pits you against our forefathers and foremothers to, well, get that cash. This could also be a good game to play in history classes, as you'll get some learning in.
Learn more: Deal or Duel: An Alexander Hamilton Card Game
This game was provided by Blogging for Books; all opinions are our own.